Designer's Profile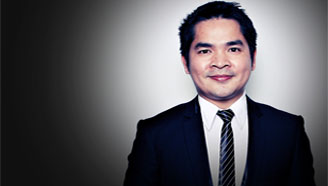 Adante L. Leyesa is a new breed in accessory design. He offers distinctively innovative hand-crafted bejeweled accessories. Intricate, unique and stand-out are only few words to describe his work.  The designer's creation is divided between one of a kind personally inspired pieces, and work that is custom created through his frequent collaboration with clients. His jewelry pieces are formed using variety of materials: local weaves, woods semi-precious stones, tiny beads, metal chains and multi-step processes forming thoughts and feelings; discovery and craft; story and art.  Women with flare in haute couture and those who dare to make bold statements will adore his exquisite designs and superb craftsmanship.
The designer celebrated his debut at the Philippine Fashion Week Holiday 2011 contemplating the creations of the country's premier designers: Gerry Katigbak, Albert Andrada, Ulysses King and Ricky Abad. His works were also presented in a full collection show with designer Solenn Heussaff for Tan Gan in June 2011 and Happy Andrada in PFW Holiday 2012 in May 2012.
This Batangueño holds degrees in Management Accounting and Maters in Business Administration.  On top of his designing venture, he works full time as a Specialist in Quality Management System for a  Government-Owned and Controlled Corporation (GOCC) based in Makati.  Prior to this, he's an accountant in the private sector and spent eight (8) years servicing multinational private firms in his region.
History

The designer, Mr. Adante Leyesa a self-taught artist, started creating pieces only as a hobby which was intended to be used by siblings and gifts to friends. When his collections stocked, that prompted him to transform this passion into a money-making venture.
The Adante Collections, as a business, was established only in the last quarter of 2010. The collections were first introduced in October 2010 in a Bazaar organized by a TV network. It was on the same occasion when designs started grabbing attentions by stylists and fashion buyers.  Bazaars then served as a venue to sell the products apart from direct selling using the social network. To date, the collections are now available in Myth, a popular pool of all-Filipino designers and in LManila of renowned fashion designer Lulu Tan Gan, both located at the 2nd Level of Greenbelt5. Some of the pieces are also being sold at the boutique of the world renowned exclusive resort Amanpulo, Pamalican Island in Palawan and in the newly opened Antique Atelier at the San Jose de Buenavista, Province of Antique, where Mr. Leyesa serves as the only in-house volunteer designer.

Some designs from his collection were already featured in leading fashion magazines and major broadsheets in the Philippines.  They can be seen also on his website: www.adantecollections.com.
The designer takes part in Manila Wear - a collaboration of the country's premier and upcoming designers headed by Ms. Josie Natori.  This bi-annual exhibit holds on the occasion of Manila Fame by the Center for International Trade Expositions and Missions (CITEM).  The movement showcases a collection that embraces the tropical lifestyle and philosophy from the perspective of the Philippines' top designers, and synthesizing these to reflect the unique Filipino fashion sensibility. 
Award Winning/Social Entrepreneur Champion

Adante Leyesa emerged as the grand winner under Accessory Division of "Weaving the Future"- a Social Design Competition by the Fashion and Design Council of the Philippines (FDCP) held last November 2011. Said winning opened more social design opportunities and strengthen his direction toward social entrepreneurship.
From the six (6) out-of-school youth in he trained from his hometown Lipa, Batangas, who continuously assisted him in the beginning of my design ventures, he is now active volunteer in-house designer of the Antique Atelier- a design lab established by and for the Association of Disabled Person (ADP) – Antique located in San Jose de Buenavista, Province of Antique, which was funded by an international NGO, the Liliane Foundation Philippines and the Local Government Unit. He is in-charged in capacitating the members of the association through series of skills training and product development related to fashion accessories. Helping this sector that is considered marginalized by society because of their disabilities are both humbling and fulfilling for the designer and he is vouching to support the sector until they become self-sustaining.
The designer is currently working in a collection of bag made of local weaves and wood in partnership with certain communities-based and local of Benguet, Antique and Iloilo. Too inspired for what he had begun, the designer is also looking forward to tap more communities nationwide, among others, the Ifugao basket-weavers of Benguet, the Gawad Kalinga communities, the sewers and embroidery from Taal, Batangas, etc, and to bring their produce on the global market.
The Collections

The Adante Collections are handmade exquisite accessories that will surely give a statement to any wardrobe. With the use of high-grade materials, mostly sourced locally such as weaves, wood, bamboo, semi-precious stones, beads, crystals, and metallic components combined with the superb techniques such as beading, knotting etc. to create one-of-a-kind masterpieces. There is no duplication of items to avoid worries about being seen in public with someone wearing the same.
Customizing items based on clients request are also entertained. However, the designer avoids producing any replica of existing designs that are associated to other designers.
The Adante Collections took inspirations from the materials itself, the nature and various mediums, like famous personalities, color trends, cultural influences absorbed during local travels.
The designer's current collection is called Paradiso.  Inspired by the renaissance, the pieces were textured and coloured deeply to make it appear as if it was part of a painting made during the renaissance.  The neckpieces are ranging from fringed pieces made of  wooden beads, wrapped in piña fabric, hand painted with acrylic and embellished with gold-vintage chains, trinkets, crystals and tiny fresh water pearls for intricate finishing- replica of his FDCP's winning piece.

The are also clutches out of bamboo and hand-woven by tribes from the Cordilleras, some "Bariw" palm from Antique, and woods from Iloilo.  The hand beaded appliqués were made of semi-precious stones adorned by gold-patterned seed beads and cut beads which took weeks to finish. These were crafted by a group of out-of-school youth from Lipa, Batangas.
Each component has a story of its own and the multi-steps employed on each design have another story to tell and these made each piece really special.